Aiwa

De Marketing websites van Webmyday geven jouw organisatie een professionele uitstraling. Of je nu behoefte hebt aan nieuwe afspraken, webshop bestellingen of het schrijven van blogberichten? Het kan allemaal!
Producten
In de webshop van Aiwa zijn verschillende producten te vinden als luidsprekers, oordoppen en koptelefoons.  Bij het openen van de shop ontdekt de bezoeker direct de productcategorieën en kan vanuit hier gemakkelijk doorklikken naar de shop.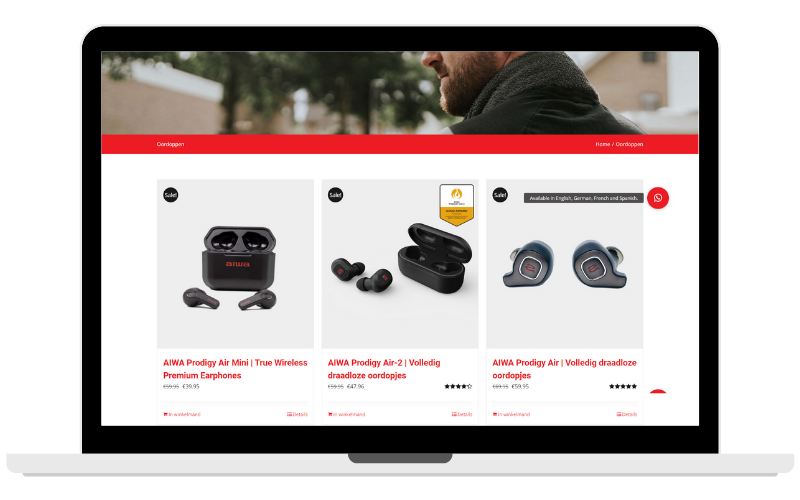 Check!
Webshop in verschillende talen

Aankopen worden doorgemeten in Google Analytics

Koppeling met de social media kanalen
Een Marketing website bevat call-to-actions op de belangrijkste plekken vinnen de website. Er worden +/10 pagina's aangemaakt die volledig zoekmachine vriendelijk zijn. Daarnaast wordt er en blogmodule gerealiseerd.
Meertaligheid
De webshop van Aiwa is beschikbaar in verschillende talen. Via deze weg kunnen ook Duits- en Engelstalige klanten gemakkelijk shoppen. Ook wordt er naar verschillende landen in Europa verzonden.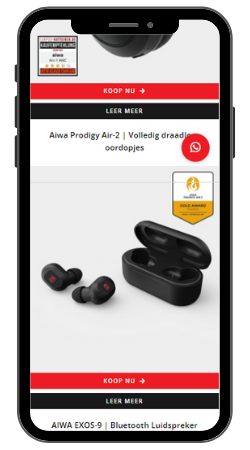 Gerelateerde projecten